Clontarf – Dublin City
CLONTARF IS A THRIVING SEAFRONT TOWN!
Around a thousand years ago, the path of Dublin's history was changed in Clontarf. Brian Boru's Irish forces defeated the Viking-ruled kingdom of Dublin in 1014, putting an end to the growth of Norse power in this country. A fishing village for hundreds of years, known mostly for its oyster beds. But in the 19th century, some of the city's wealth began to spread north as well-heeled Dubliners saw the area's potential as a holiday resort. Beautiful homes sprang up, and the promenade became a fashionable spot to take a stroll.
The town of Clontarf has miles of seafront walks along the Promenade, spectacular views across Dublin Bay from Howth to Dun Laoghaire; and the magnificent St Anne's Park with its spectacular Rose Garden. Clontarf Road is home to the lots of cosy pubs and buzzy eateries, It is also home to Bull Island a low lying, dune covered sand spit in Dublin Bay off the coast. As a national nature reserve it is a paradise for birdwatchers and wildlife enthusiasts!
MOST FAMOUS FOR THE BATTLE OF CLONTARF AND BRIAN BORÚ DATING BACK TO 1014
Clontarf Promenade
The promenade is a place of outstanding beauty in the context of Dublin as a whole, offering spectacular views across Dublin Bay. There is a pedestrian pathway that runs along the sea wall and it is perfect for a summer stroll. Unique not only for the number of visitors it attracts but also for the frequency of these visits. It is the preferred seaside destination for many Dublin citizens who live in the surrounding areas and those living in the City Centre with many visiting on a very regular basis.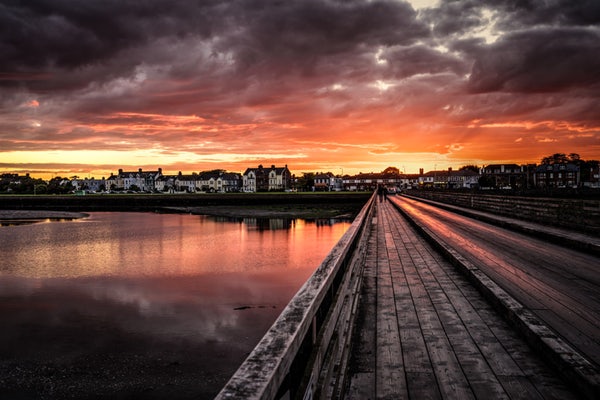 Bram Stoker's Hometown
When Bram Stoker penned "Dracula," arguably the Irish author's most recognizable piece of writing, little did he know how much the blood-hungry protagonist would become embedded in pop culture years later. Today Dracula is easily one of the most recognizable characters in literary history His birthplace is on Marino Crescent in Clontarf, the future Dracula author was born on November 8, 1847.  He was the third of seven children born to Abraham Stoker, a civil engineer who worked at nearby Dublin Castle, and Charlotte Thornley.  Stoker was baptized at the local Protestant Church of St. John The Baptist.  At an early age Stoker was afflicted with an unknown condition and remained unable to walk for the first seven years of his life.
The North Bull Island Nature Reserve
Designated a bird sanctuary in the 1930's, then designated a national nature reserve in 1988. It is also listed as a biosphere reserve by UNESCO. Over 180 different bird species have been recorded on the Island making it a paradise for bird watchers. There are also over 300 different plant species.There are six mammal species on the island. One of the more famous, the Irish hare, the other five include European rabbits, Brown Rats, Red Foxes, hedgehogs and field mice. An interpretative centre was built on the island in 1986 and it aims to educate visitors about what the island has to offer.
St Anne's Park and Rose Gardens
In addition to extensive woodlands, water features and recreational facilities, the rose gardens of St Anne's Park are of international importance and are at their peak from June through September.
Food and Drink
Kennedy's Food Store is a long-established northside deli and food store overseen by head chef Linda Doyle with a big emphasis on local and seasonal ingredients.Being part of Clontarf is very important to them and they really focus on delivering a friendly & efficient service in a relaxed atmosphere.
Shipping container cafe Happy Out opened its hatches at the end of the Bull Wall in 2017 and its been an amazing few years! The simple offering originally planned has grown from strength to strength offer delicious toasties, great coffee, lovely breakfast bits, pastries and an array of cakes!
The award winning Kinara Group was founded by Sean Collender and Shoaib Yunus when they connected over a delicious dinner in Dublin's Khyber Tandoori of which Yunus was a manager at the time. With a shared love of outstanding cuisine served up in a relaxed atmosphere, a match was made that has withstood almost two decades. Serving Pakistani cuisine with award winning cocktails with a private dining area and roof terrace for a pre or post dinner drink!.
The Baths is ideally suited for all things outdoor with its amazing views over looking the pool and Dublin Bay. They have new menu options that are working on including street food, hot grill on the front lawn serving BBQ Burgers, Prosecco Boxes wine, cocktails, beers, prosecco, champagne. À la carte with an emphasis on fresh fish in the outdoor Pergola, with a new state of the art heating system.
A large long standing old school Dublin heritage pub dating back over 200 years with friendly staff and good stout!
Clontarf Castle is a unique 12th Century castle hotel offering guests a genuine Irish welcome, in a building that magically blends the old with the new.
Celebrate, chill out, or relish in a little of both. A perfect blend of a boutique and luxury hotel, providing unique style and exceptional service in comfortable surroundings.