DR CHAOSHENG ZHANG – PHOTOGRAPHER
Sometimes it takes an outsider's eye to see what is special about a particular place, to recognise, the beauty which locals take so much for granted that they hardly not notice anymore. Through such people, we see our country with new eyes.
Dr Chaosheng Zhang's photographs of the Claddagh, Salthill, Galway Bay, the Long Walk, and the River Corrib, can make these locations seem as though we are viewing images from a completely different country, somewhere new, somewhere we would like to visit.  Dr Zhang moved to Galway back in 2000 and is originally from south west China.
To take good photos, you need to learn geography
Please tell us a bit about yourself ?
I have to say I am an amateur photographer and photography is my hobby. I work full time as a professor of Geography at NUI Galway, teaching geographical information system (or computer mapping) and doing research in environmental sciences. Together with my family, we have been living in Ireland for 21 years. I began to take landscape photography in the end of 2016 when I bought a relatively good digital camera. Before that, I mainly used a mobile phone to take photos following the general rules of composition.
What would you say is unique about your style ?
My photography style can be labelled as being "colourful and peaceful". I am sensitive to colours in landscape, so I normally take photos during sunrise, sunset and sometime golden hour and blue hour. I like take photos of reflections when the water surface is smooth. People say my photos have healing effects to mental health. I am very delighted to know that.
Where are your favourite spots in Ireland for getting those picture perfect shots ?
Mostly I stay in Galway, as I live here and work here. My favourite spots include the Blackrock Diving Tower and Salhtill area. Sunset in Salthill can be very colourful, especially in Winter. The Blackrock Diving Tower is an ideal location to take sunset photos and often there are some people staying on the tower or even diving from the tower when the tide is high enough, making the scenery both beautiful and peaceful.
Please can you share the TOP 3 photographs (in your opinion) that you've taken and write one sentence about each ?
1. NUI Galway in County Galway
I am proud of the photo showing the 'patriotic' colours of the Quadrangle building on campus of NUI Galway.
2. Long Walk in County Galway
The purple colours of sunrise over Long Walk in Galway is one my best photos taken in this area.
3. Galway Bay – County Galway
The photo with the lovely divers over the Blackrock Diving Board shows the beautiful sunset over Galway Bay and peaceful life in Galway.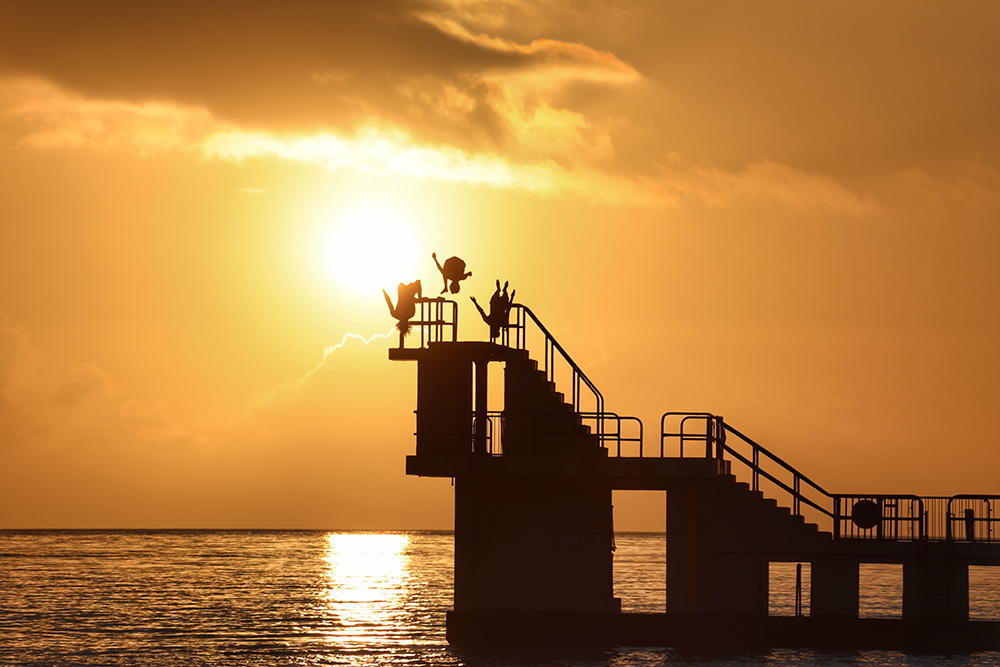 Are there any destinations in Ireland that are high on your list to visit ?
I hope to take a few very beautiful and colourful photos of Cliffs of Moher, possibly during sunset in winter. It is about 1.5 hours drive away from Galway.
I have seen a lot of beautiful photos of the coastal areas of Kerry and Donegal. I hope to take some nice photos of my own.
Three people (living or dead) you'd invite to dinner ?
The first person is my father who left us 8 years ago. I think we have not had a proper dinner.
Then my colleague in Sweden who has retired. He introduced me to the international network of my academic area of environmental geochemistry. I believe he is very happy to see that I stay active in this area.
The third one is a colleague in Galway who has also retired. He supported to bring me to Galway. I think he appreciates my international publications. I believe he is happy to see that I have been keeping active in publishing in international journals.
*All images in the above article were captured by content creator Dr Chaosheng Zhang
For more information on Chaosheng's work, you can visit his social media accounts below:
Follow Dr Chaosheng Zhang
….