Great Irish walks and hikes
Short strolls, long hikes and multi-day treks, discover amazing walks across the country. Enjoy epic views and drink in the crisp, fresh air.
There's nothing quite like the feeling of fresh air on your face and rugged terrain underfoot as you reach the summit of one of Ireland's majestic mountains. Wander down woodland routes, escape to the coast on stunning seaside walks and conquer the highest peaks in the country, where spectacular views await.
Find your next hike in Ireland
1. Eagles Rock, Co. Leitrim
As one of Ireland's most unique rock formations, Eagles Rock in Leitrim is a walk that astounds even the most experienced of hikers. The area has a series of rock towers and pillars with Eagles Rock reaching a whopping 330m into the sky, making it Ireland's highest free-standing tower. This epic hike starts in the car park in Glenade and finishes 3km away outside Kinlough. Even though this route is quite short for regular hikers at an hour long, the 150m elevation gain and sections of rough ground make parts of the trail challenging.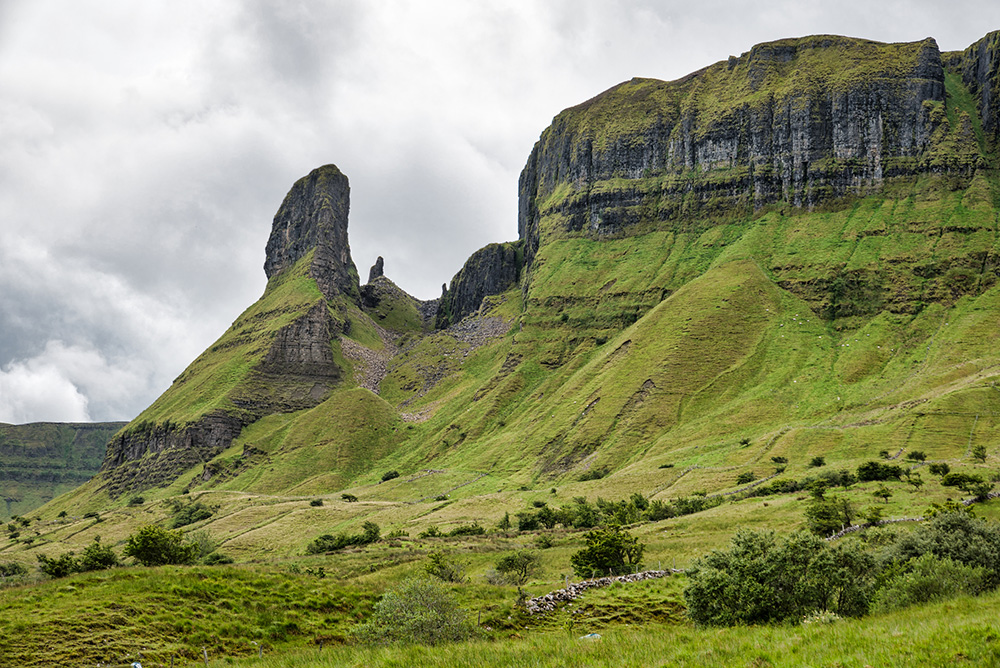 2. The Wicklow Way, Co. Wicklow
One of the country's greatest long-distance hiking trails starts in the Dublin suburbs at Marlay Park in Dublin and goes all the way to Co Carlow. With dramatic scenery and a rich, varied route, there is a unique sense of remoteness as you make your way past the beautiful monastic site of Glendalough. Walk across ridges and gently sloping valleys before you descend into the peaceful foothills of Clonegal. Apart from a few short steep sections, there are no significant climbs. Approximately 129km in length, the Wicklow Way takes about six days to finish.
3. Fanad Peninsula and Horn Head Walk, Co. Donegal
Take your boots off as you traverse sandy beaches and discover a landscape masterfully sculpted by the Atlantic waves. Your tour ends at the iconic Fanad Lighthouse, marking the entrance to the famous Lough Swilly. If you fancy going on two walks when you're in Donegal, go on the Horn Head Walk on Inishowen Peninsula. This shorter, coastal walk leads you onto the astonishing Sheephaven Bay where golden beaches and views of Tory Island and the Donegal Highlands provide the backdrop to your exhilarating hike.
4. Sheep's Head Way, Co. Cork
An exciting 88km circular route, the Sheep's Head Way starts in Bantry and runs along the north coast to the scenic Sheep's Head Lighthouse before returning along its southern side. You're never too far from the invigorating Atlantic Ocean here but despite this, the terrain is very varied and takes in quiet rural pathways, open grassy moorland, woodland and country roads. See stone circles, standing stones and even a Napoleonic signal tower on this great adventure. Eagle-eyed wildlife enthusiasts may even spot dolphins and whales in the ocean below.
5. Doolin Cliff Walk, Co. Clare
The magnificent Doolin Cliff Walk is a 20km coastal cliff path that leads you from Doolin over the Cliffs of Moher. Rising to 214m, stand still and take in the views of the idyllic Aran Islands and beautiful Galway Bay. Listen to the crashing waves and rolling surf below but keep your eye on the track, this challenging and seaward three-hour trail is demanding and it's not for the faint-hearted. Afterwards, head to picturesque Doolin, well-known for its traditional Irish music, craic and lively atmosphere. Enjoy one of the most memorable trails on the Wild Atlantic Way.