Ireland's best hikes
There's nothing quite like the feeling of fresh air on your face and rugged terrain underfoot as you reach the summit of one of Ireland's majestic mountains. Wander down woodland routes, escape to the coast on stunning seaside walks and conquer the highest peaks in the country, where spectacular views await.
If you truly love nature, you will find beauty everywhere.
Discover Ireland Best Hikes Ireland
1 | Hill of Tara Walk
Step back in time to when high kings ruled the kingdoms of Ireland on the Hill of Tara walk in Meath. The iconic circular ridges in the landscape mark the site where people in ancient Ireland believed sacred gods lived and, later it became famous as the place where St Patrick introduced Christianity to Ireland.
This short 1.3km looped walk begins at lively Maguires Café and passes by St. Patrick's Church as you climb the short hill to Mound of the Hostages and Stone of Destiny. The loop brings you back to the start point in less than an hour.
2 | Errigal
Ascending the striking peak of Errigal in Donegal is a must for keen hikers. The sight of the angular peak reflecting in Dunlewy Lough is enough to inspire you to plan a trek to the summit. This trail is just over 4km and climbs for 500m, with the 2.5 hour long hike particularly steep in parts.
Some sections are quite open, loose and rough so this trail is best suited to these who don't mind a bit of scrambling. The route begins in the boggy lowlands before becoming rocky and open until you're rewarded with spectacular views at the top. If you don't want your epic day to end, tag on the 2km stretch at Mackoght to experience even more hiking in Donegal.
Visit Galway and find one of Ireland's most memorable lookouts from the summit of Diamond Hill in Connemara National Park. Standing tall on the outskirts of Letterfrack, Diamond Hill is a 442m high peak with stunning views out to sea of Inishbofin, Clare Island and Inishturk. The 7km Upper Diamond Hill Loop remains challenging throughout but the trail surface is a mix of gravel paths and wooden boardwalks, making the steep sections on the three hour long loop as manageable as possible.
The shorter Lower Diamond Hill Loop at 3km is a great option for those who want to experience some of the views without climbing all the way to the top. Head back to Letterfrack for a well-earned meal, or head on another hike in Connemara National Park and keep your active day going.
4 | Coumshingaun
The demanding 7.5km long hike around Waterford's Coumshingaun Lough in the Comeragh Mountains is a spectacular trail filled with unique features that you won't find anywhere else in Ireland. The natural amphitheatre, also known as a corrie, was formed during the Ice Age as a glacier eroded the mountain, leaving behind near vertical cliffs and an expansive lake.
The route leads hikers to sky high vantage points and then back down to the edge of the water, the route takes two to three hours to finish. Seasoned swimmers brave the chilly water for a quick dip while others journey to Coumshingaun to go rock climbing in summer and ice climbing when the temperatures drop.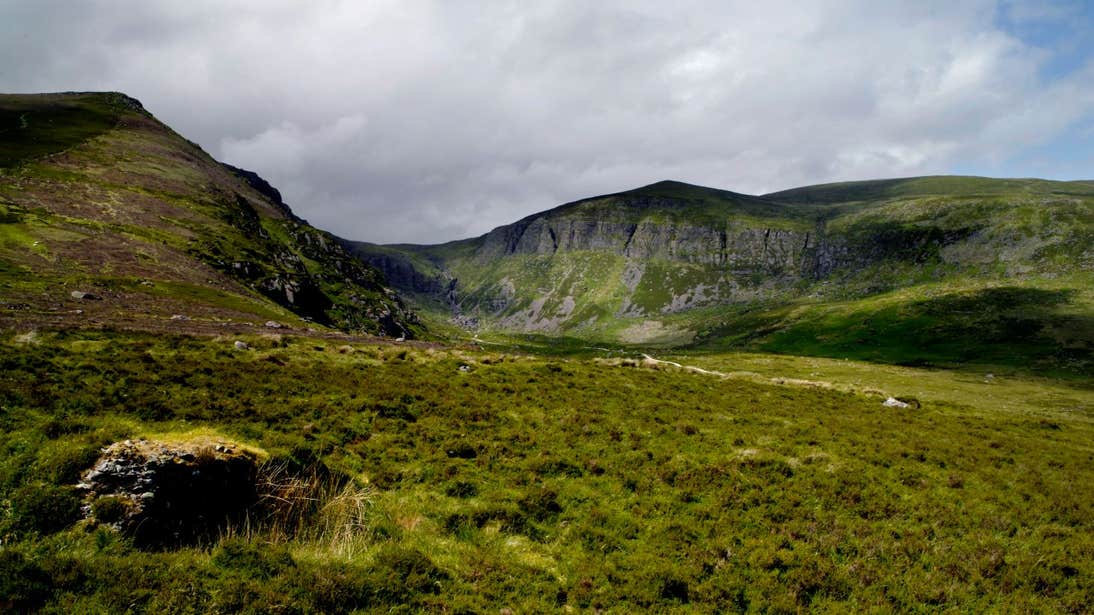 Base yourself in the medieval village of Carlingford on a hiking break in Louth's Cooley Mountains. Slieve Foy stands tall over the village and it takes about 2.5 hours to complete the Slieve Foy Loop – this hike is a mix of country lanes and open mountain top rambles, keep an eye out for roaming horses and flocks of sheep as you go.
Head out on this 9km route along moss green forest paths and admire the vistas over Carlingford Lough, where magnificent mountains meet the enchanting lough. Reward yourself with some famous Carlingford oysters on your return and enjoy a warm welcome from the friendly locals.
Get the best of both worlds on a gorgeous hike in Ballycotton, Cork. The Ballycotton Cliff Walk is a glorious coastal route with striking views of land jutting out into the Atlantic Ocean. Keep an eye out for pods of dolphins playing in the water and ramble along as countryside lanes from the village of Ballyandreen bring you back to your starting point in Ballycotton three hours later.
The loop is 9.25km long and climbs for a total of 180m, so this is a great choice for those who love hiking through rugged landscapes, but would prefer not to tackle steep mountains. The Ballycotton Cliff Walk is very popular and ideal for a midweek hike.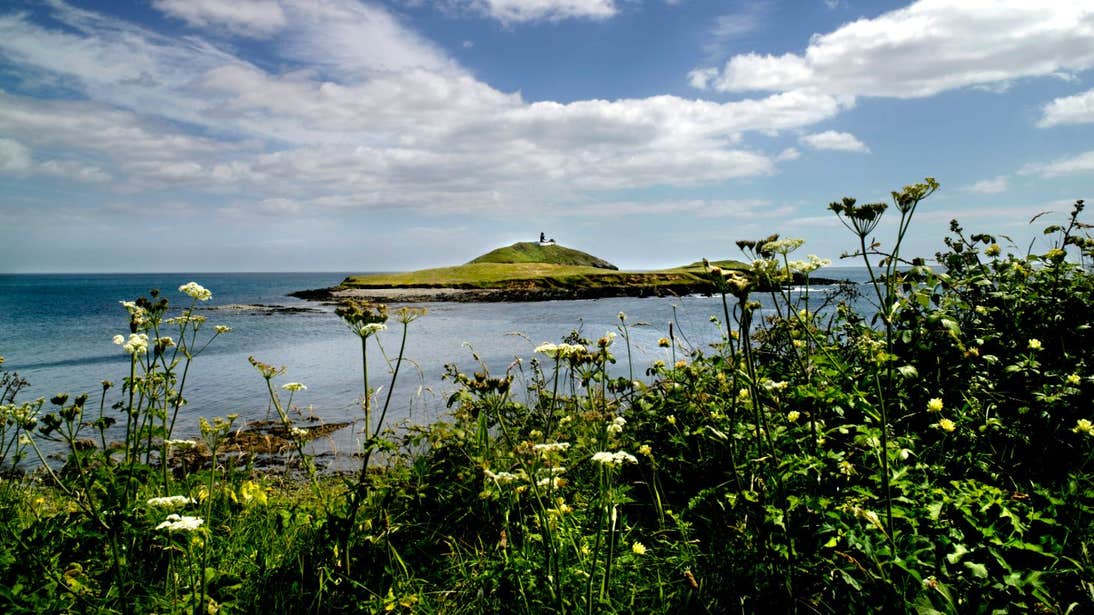 Hike through the raw landscape of the Cavan Burren Park with its unique geological features and imposing dolmens. Cavan Burren Park is one of the highlights along the 26km long Cavan Way which runs from Dowra to Blacklion.
The tranquil Cavan Way is quite flat with only a few stout drumlins and hills to navigate, making it a great choice for hikers who want to stretch their legs for a full day without climbing any significant hills. Explore Cavan Burren Park on its network of four short, looped trails that take in some of the park's most notable features like the sinkholes and glacial erratics.
The best day long hikes in Ireland
As one of our Ireland's most iconic hikes, reaching the summit of Croagh Patrick in Mayo is a rite of passage for experienced hikers. The loose stone paths, tricky ascent and 764m of climbing is all worth it once you're standing at the chapel at the summit.
Croagh Patrick is of major religious significance with some passionate devotees climbing the mountain barefoot on Reek Sunday. If that's not for you, lace up your sturdy hiking boots, pack some sandwiches and fill a flask with tea to take on the four hour long, 7km climb, giving you plenty of time to admire the view from the top.
Visit the Cliffs of Moher in Clare for a gorgeously windswept day of walking. One of the most breathtaking places in Ireland, the 16km Cliffs of Moher Coastal Trail is one that appeals to accomplished walkers due to its exposed nature. The reward is a truly jaw dropping ramble from Liscannor to Doolin, five hours away.
Watch seabirds tend to their nests high in the cliffs, spot surfers catching the famous Atlantic Ocean waves and enjoy endless sea views and coastal towns. For an unforgettable walking holiday, explore The Burren Way and extend your stay in Clare.
No hiking list about Ireland is complete without The Wicklow Way. Originally a path for transporting cattle to Dublin, the trail through the Wicklow Mountains evokes images of layers of mountain peaks, hillsides alive with flickers of heather and gorse, and placid lakes shimmering like an oasis.
The Wicklow Way begins in Marlay Park and ends in Clonegal, a full 129km in total. Walking the entire route is a dream hike for outdoor fanatics, but if you're looking for a special one day hike, the 22km section from Lough Tay (Guinness Lake) to Glendalough is an inspired choice.