NELS AMBROSE – PHOTOGRAPHER
Not only is Nels work breathtakingly beautiful but it also makes you want to be a part of it all. This Island is the perfect place to just grab your camera and go exploring and that's exactly what Nels Ambrose has done. His account, such as the images in this article, offers a unique and beautiful way of seeing the land from different viewpoints (quite literally a different perspective). The luscious shots splashed with colour, really help to elevate the beauty of whichever county Nels is visiting.
You'll definitely get your daily dose of travel-spiration.for Nels Insta feed.
I DIDN'T EXPECT THE PHOTOGRAPHIC BUG TO SINK SO DEEP THAT IT WOULD MAKE PHOTOGRAPHY SUCH AN INTEGRAL PART OF MY LIFE TO DATE
Please tell us a bit about yourself ?
Hello. I'm a technologist by profession and absolutely love to complement that with trips where I can enjoy nature and great landscapes. Every opportunity is a great excuse to practice 2 things I really love: trekking and photography, which just happen to combine extremely well. When a few years ago I was asked to do both as part of aiding a charity organization, I didn't expect the photographic bug to sink so deep that it would make photography such an integral part of my life to date. Since then I've been happily documenting Dublin streets, the amazing Irish landscapes all around us, and and anything else in between that I find interesting.
What would you say is unique about your style ?
My goal is to document in some way the places I photograph. I  love the idea of promoting Ireland's amazing spots to people both here and around the world. It gives me tremendous satisfaction to be able to show how amazing Ireland is, or any other places for that matter, to anyone who's willing to witness it. One of the things I tend to look for is a different perspective, an unusual angle or a different view of the subject. This hopefully also helps highlight the story behind the subject being photographed. That means at times a walk away from where you are, looking around and seeing if a spot offers a better perspective of the subject or story, and describes it better. I also love colors, which sometimes takes my focus to things like sunsets & sunrises and bright tones in general, while other times makes me focus on more moody ones which may offer a more emotional perspective, and with more wonder, of the world around us.
Where are your favourite spots in Ireland for getting those picture perfect shots ?
Living in the city, I love photographing Dublin and especially the South Dublin region, which is an absolute gem of opportunities for photography and which I amusingly call the "Irish Riviera" (well, in the summer at least…) Other absolute favorites include the Wicklow Mountains, Tipperary and Connemara.
Please can you share the TOP 3 photographs (in your opinion) that you've taken and write one sentence about each ?
1. Blackrock Park in Dublin:
I have watched some amazing sunrises and sunsets in Dublin, but this was by far one of my favourites. The sun rising over Blackrock Park just gave it a magical combination of colors and tones that look almost unbelievable. Glad I took a video too, just in case people thought these colors were altered.
2. The Great Blasket Island in Co. Kerry:
Part of the Dingle Way, which I recently trekked with friends. We stayed overnight here and thankful that we did – that evening the sun magically set behind the Sleeping Giant and gave us an amazing combination of breathtaking landscape, golden hour and magical hues.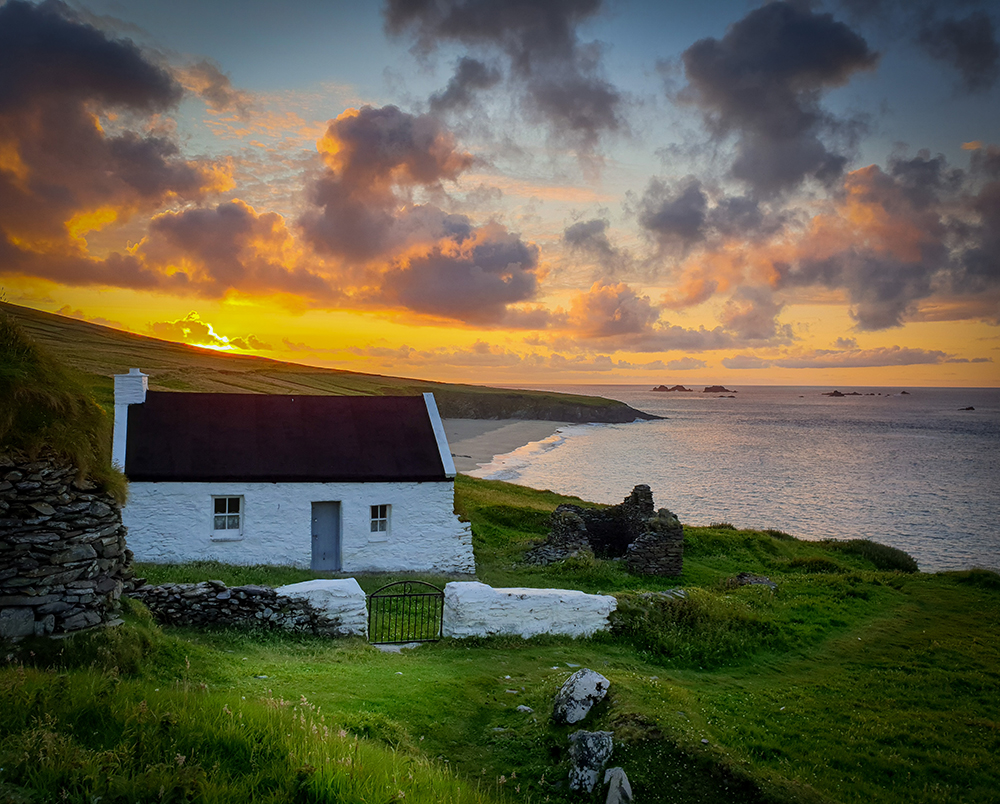 3. Seapoint Crescent Beach in Dublin:
This summer, the sun shined bright in Ireland together with a heat wave, and Irish folks did what they always do best on these occasions – they enjoyed the beach and the sea and the sun and the heat, the best they could muster! This photo was taken on both a warm and hazy day at Seapoint Crescent beach, near Dun Laoghaire, with the area full of Stand Up Paddlers and happy beachgoers.
Are there any destinations in Ireland that are high on your list to visit ?
Right now I would love to visit Skellig Michael, Sligo or Donegal, if nothing else because they're some of the few places on my list I haven't visited in Ireland yet.
Three people (living or dead) you'd invite to dinner ?
My 3 idols: Steven Spielberg, Gandhi and Einstein, in no particular order.

*All images in the above article were captured by photographer Nels Ambrose
For more information on Nels work, you can visit his social media accounts below: