Kilkenny City – County Kilkenny
Kilkenny City, Once the seat of the ruling Ormond Family!
The medieval city of Kilkenny is host to some of the most amazing historic architecture in Ireland. At one point in time this was the capital city of the country. It is now renowned for its sporting success and enthusiasm for the game of hurling. With a thriving business community, it makes for a quirky shopping experience. Bursting with small boutique shops, bespoke offerings and delicious eateries. Strolling through the streets of Kilkenny is like taking a trip back in time. The endless options of traditional Irish bars make for a vibrant nightlife scene. Home to the Kilkenny Cat Laughs, Savour Food Festival and the Kilkenny Arts Festival, It's just bursting with culture and history. This is a must-visit location for people who haven't been.
Kilkenny – The Marble City!
Medieval Mile Museum
The 13th century St Mary's church and graveyard in Kilkenny is the finest example of a medieval church in Ireland. The former St Mary's Church has been converted into a modern museum and venue. Designed to enrich the cultural life of the city, it is the starting point for understanding Kilkenny's medieval history. Displaying Kilkenny's Civic Treasures and replicas of some of Ossory High Crosses. Kilkenny's 800-year story is told with a contemporary twist allowing visitors to get immersed in the rich history with the aid of modern technology.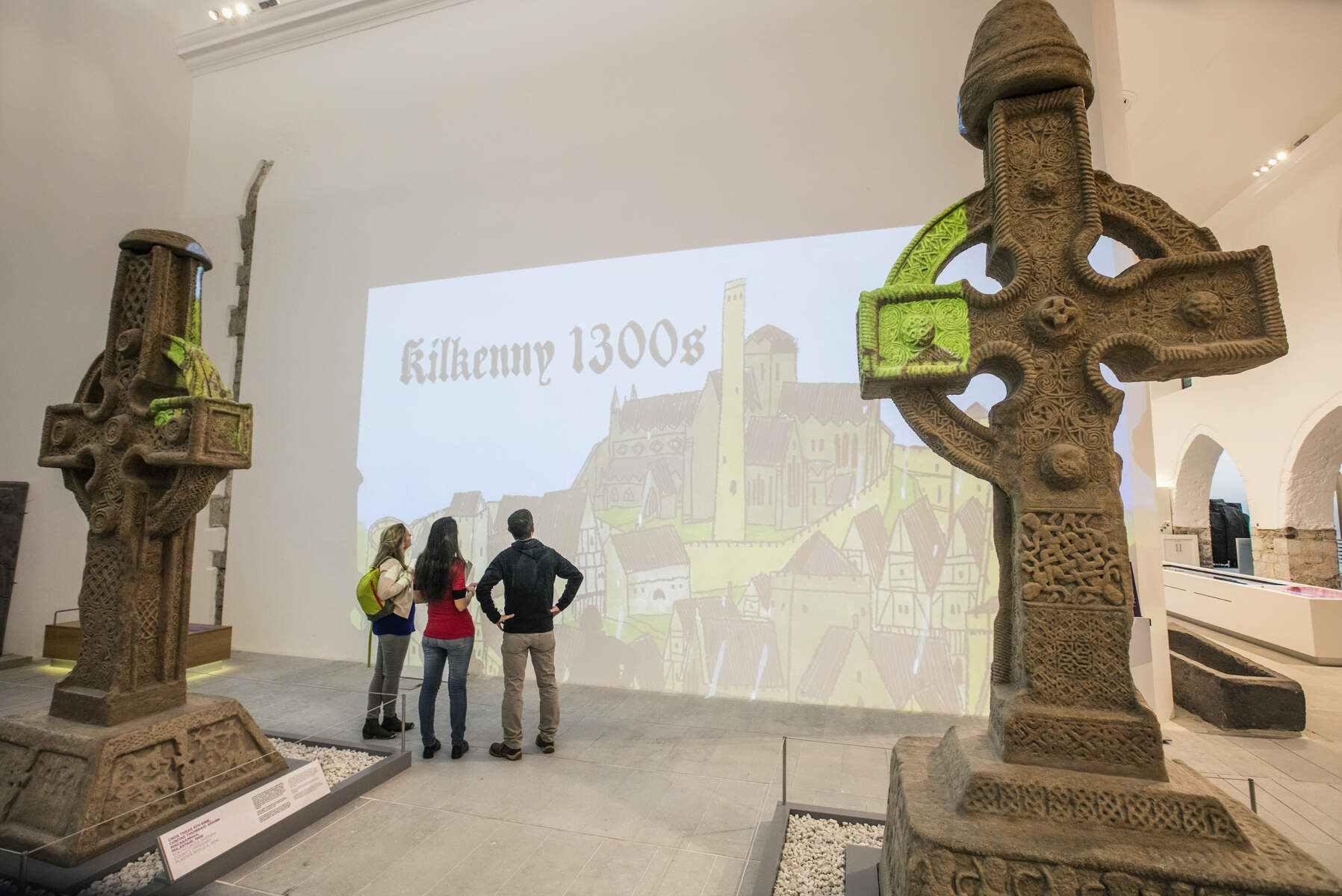 Kilkenny Castle
Few buildings in Ireland can boast a longer history of continuous occupation than Kilkenny Castle. Founded soon after the Norman conquest of Ireland, the Castle has been rebuilt, extended and adapted to suit changing circumstances and uses over a period of 800 years. Today, Kilkenny Castle is open to visitors all year round and is largely a Victorian remodelling of the thirteenth century defensive Castle. Each year, hundreds of thousands of visitors come to see this grand country house and walk through its fifty acres of rolling parkland with mature trees and an abundance of wildlife. Other features include a formal terraced rose garden, woodlands and a man-made lake, which were added in the nineteenth century. There is also a tearoom, playground and several orienteering trails for visitors to enjoy.
Cake Face
Cakeface Patisserie is the brainchild of pastry chef duo Laura & Rory Gannon. Offering savoury or sweet options, catering for vegetarians and vegans alike. It offers unique and quirky range of sweet treats and desserts, all handmade by Laura & Rory. A constantly changing lunch menu guarantees fresh and interesting gourmet salads, soups and sambo's on sourdough baguettes or artisan loaves.
Langton's
Family run business in the heart of Kilkenny offering top quality dining experience. A great place to enjoy your stay in Kilkenny. The Garden Restaurant at Langtons Hotel Kilkenny features dishes created with fresh, seasonal ingredients. Many of these are selected from local suppliers by our expert chef, to ensure that the carefully constructed menus are tailored to our customers.  Introducing modern dining without losing the traditional charm for which Langton's Restaurant is renowned for.  The menus offers a choice of gluten-free options and cater to a vegetarian or vegan diner. 
We Love Ireland – Town Spotlight of Kilkenny City
We visited the medieval city of Kilkenny. Taking a stroll through time with some familiar faces from the city.
Getting to Kilkenny!
By Car
From Galway: 174 km (108 miles) – 2 hr 40 min
From Dublin: 128 km (79 miles) – 1 hr 30 min
From Belfast: 290 km (180 miles) – 3 hours
By Public Transport
Kilkenny is serviced by both Irish Rail and Bus Eireann. Services run 7 days a week, with Irish Rail links and Bus Eireann routes running to many locations throughout Ireland throughout the day.